Part 2 of BrandTrip Partners Restaurant Chain Turnaround Series
In this chapter we will examine strategies to improve throughput. "Throughput Improvement" simply allows the movement of more transactional behavior in a given amount of time. The innovation tends to be accomplished through technology enhancements, process improvements, or physical plant alterations. In their most successful implementations, Throughput Improvement can be as highly impactful as the double-digit exponential leaps found through new revenue channels explored in Chapter 8. A more typical result drives solid single digit results.
DRIVING-THRU MORE TRANSACTIONS
One of the secrets behind Starbucks amazing record of sales growth
Everyone is aware of the amazing growth story of Starbucks. However, just before The Great Recession, they slowed down substantially in the United States with negative sales and transactions in addition to store closures. Their stock naturally reacted with a huge dive.
To make matters worse, there was a little company called McDonald's who overnight opened their McCafe platform in approximately 14,000 locations throughout the United States instantly becoming the largest provider of lattes in the country. If you look at history with McDonald's, they do well when they identify a major trend and offer a decent product at a lower price delivered more conveniently. McCafe was the text book example.
A critical component of the McCafe platform that stole market share from Starbucks was the drive-thru. Back then, you were required to wait in that painfully long slow line at most Starbucks locations. Conversely, at McDonald's you didn't even have to get out of your car.
Eventually, Starbucks did make a comeback. It wasn't because of the infamous seasonal PSL (Pumpkin Spiced Latte) and it wasn't because of some other new chocolatey, caramely, creamy coffee concoction, or any other magical beverage unicorn. It was because of a number of initiatives, but the one that clearly put big money in the bank was the drive-thru. Why? Because it drove double digit sales with Throughput Improvement.
In 2006, as reported in the Wall Street Journal, Starbucks announced that their locations with a drive-thu did 30% more volume than stores without them. Fast forward to a 2012 Motely Fool interview with Starbucks CFO Troy Alstead where he shares learnings from the culling of locations in 2008 and the plans to increase their portfolio from 40% of all locations featuring drive-thrus to 60%. The next year, Starbucks CEO Howard Schultz was quoted in a Nation's Restaurant News report with these insights:
"Drive-thrus create incremental revenues and profits compared to traditional stores and represent a fast-growing and highly profitable format for Starbucks, comprising just over one-third of our U.S. company-operated stores but contributing nearly 45 percent of our U.S. retail profit," Schultz said.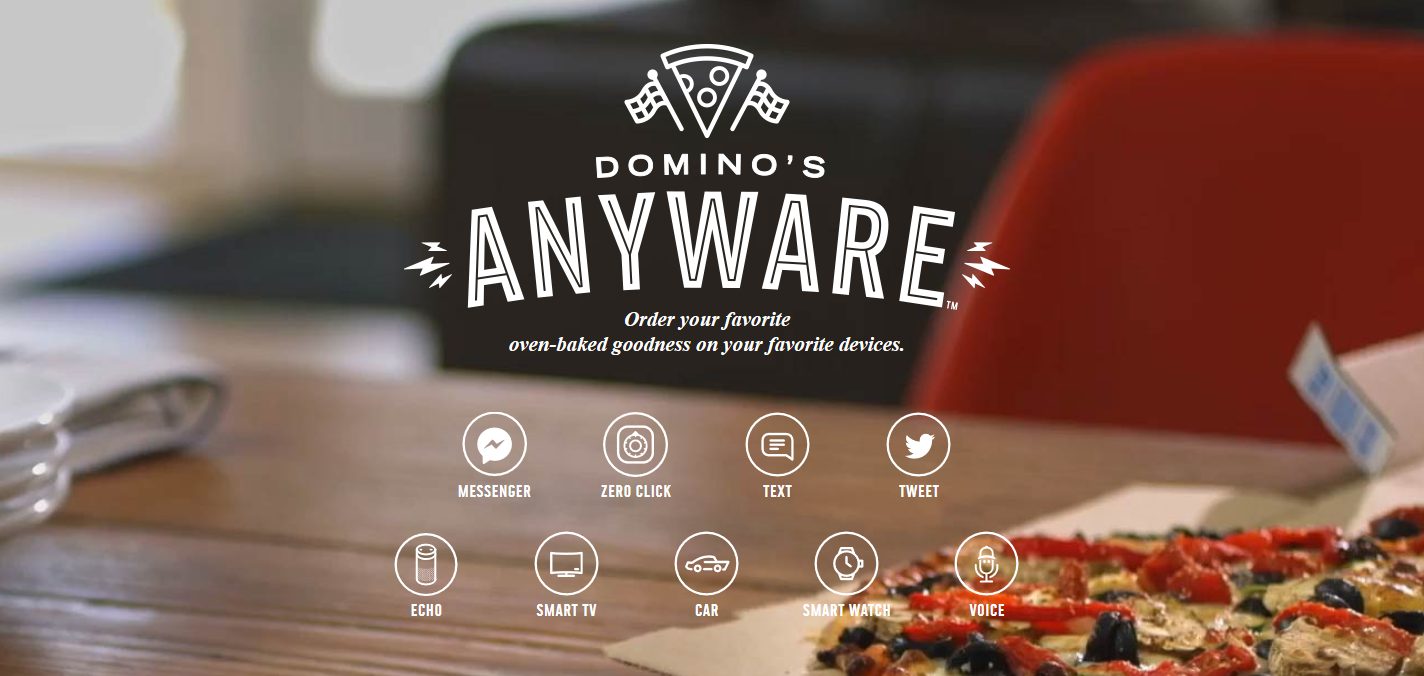 DISCONNECTING THE PHONE TO ACCELERATE SALES
Domino's relentless focus on any device ordering
There really is no better technology driven Throughput Improvement example than what Domino's has done over the past few years with their "AnyWare" ordering obsession. They championed the virtually unlimited capacity to take online orders so much that they even produced advertising telling customers not to call them anymore to place orders. Domino's literally admitted they are bad at taking orders, thus offsetting their labor costs to strictly a production and delivery force in the restaurants.
Additionally, their relentless focus on attaining as close to a zero click transaction as possible is keeping them ahead of their competitors and crushing the independent pizza players. They are mastering ordering opportunities across everything from the mobile app to message bots delivering the ability to order their products with whatever communication device you may be near. Ordering pain points have almost vanished for Domino's customers.
This Throughput Acceleration technology innovation has produced 22 consecutive quarters of same store sales increases and has raised the value of their stock over 500% in the past 5 years! It wasn't because of a new pizza, a discounted "2 Fer" deal, or a movie release tie-in. The primary innovation was Throughput Acceleration through ordering technology supremacy.
How Panera eliminated waiting, lines, and competition
How beautiful is the Panera 2.0 dine-in platform? You walk in, sit down at any table you want, order on your phone, input the table number, send the order, and food magically appears at your table moments later. No standing in line. Isn't that what we all want? Isn't this how life should be? We are shocked that no other significant quick service or fast casual brands have done this yet!
Hello restaurant industry! It's almost 2020! Do this and you achieve nearly 100% order accuracy, 100% happy guests, 100% the correct change, 100% etc. The technology exists. What are you waiting for restaurant industry?
Why should I stand in that line at Shake Shack, IN-N-OUT, or any other restaurant line? There is absolutely no reason for this pain point to exist anymore at any restaurant chain. Just bring me what I want to where I am, already pre-paid. This is, of course, not to mention that the same technology at Panera Bread allows for take-out and delivery orders too. You can also otherwise skip the line and use a kiosk ordering tablet.
Case in point is a quote from then Blaine Hurst the EVP and Chief Transformation and Growth Officer in a Nation's Restaurant News interview in 2017. "One, it is more at [customers'] pace. Some people like to browse; some people want to go faster. In addition, at a busy peak I can get more people through a busy café with the same number of cashiers. Our 2.0 cafés have a disproportionate amount of sales because we've freed up capacity at lunch."
In other words, Blaine was lovin' his transaction drivn' and sales climin' Throughput Improvement platform. Others were impressed as well as he was named CEO shortly after this program came to fruition across their entire system.
BJ's mobile app redefines casual dining ordering and payment process with streamlined technology
In 2014, BrandTrip Partners CEO Tim Hackbardt was part of the team at BJ's Restaurants that launched the first casual dining restaurant chain mobile app and online ordering platform allowing you to order your meal for a dine-in occasion. The cumbersome process of placing your order and paying for it in a sit-down environment can be fraught with a long list of pain points depending on how efficient your staff is during that shift. The BJ's team focused on those irritations and applied the appropriate pressure to the age-old casual dining ordering and payment wounds.
The new process allowed you to place the order on your phone, show up (all mobile orders automatically get you placed on the preferred seating waitlist by the way), get seated and the food starts coming right out. More importantly, when you want to leave, press a button on the mobile app and your bill is paid. Done and done. We used to call it legalized "dine & dash."
Note: The fact that the CEO of BJ's was also a board member at Domino's should not be lost in this conversation.
No longer did you ask the server for the bill, wait for the server to come back, wait for the server to come back to get the credit card and bill, and wait for the server to finally bring back the credit card and bill for you to sign. That entire exchange was eliminated, providing a more pleasant check out experience for the guest and faster table turns that resulted in more sales volume and also more tips for the servers at the end of the night.
CEO Greg Trojan explained it well in an interview with Nation's Restaurant News during the rollout in 2014, "It's really a paradigm shift" for casual dining, he said. "If you take out the front-end time (when people peruse the menu and order their meals) and take out the time spent waiting for a check, our experience becomes more of a 35-minute experience, as opposed to close to an hour. But you don't feel rushed."
Fast forward now to almost 2020 and still no other casual dining chain has introduced that speed or convenience for their dine-in guests in the palm of their hand.
THROUGHPUT THROUGH TIME
Much of restaurant history is littered with successful Throughput Acceleration milestones that took market share away from competitors or launched new categories and brands. Fast food, fast casual, Domino's 30-minute delivery guarantee, the drive-thru, and online/mobile ordering are just a few examples that have delivered substantial financial rewards for these types of improvements.
Less well known are the countless programs behind the doors of restaurant chains that have simplified operations shaving seconds, and sometimes minutes, off of cook/preparation times to drive more transactions. Fast food knows that just a few more cars through the drive-thru can result in significant sales comps. Casual dining knows that table turns do the same.
By focusing on the opportunity to achieve more transactional throughput by leveraging technology enhancements, process improvements, or physical plant alterations you too could easily exceed the industry average and set your brand up for many years of success.
MORE RESTAURANT TURNAROUND RESOURCES
Additional articles in the BrandTrip Partners "How To Turn Restaurants Around" series that you might enjoy can be found below: