Part 4 of BrandTrip Partners Restaurant Chain Turnaround Series
Here, we will review historically successful examples of brand positioning by restaurant chains that were once in decline. However, before we embark on this discussion, it would seem appropriate to define the term "Positioning," assuming not all reading this chapter are marketing scholars or have watched all the episodes of Mad Men where Don Draper drops those incredibly well-distilled ad pitches on clients after getting some sort of magical inspiration during an all-night Scotch and cigarette bender.
Modern day positioning owes itself to one of the best selling business books of all time called Positioning: The Battle For Your Mind by Jack Trout and Al Ries, published in 1981. However, the concept was published by Trout as early as 1969 in an article titled Industrial Marketing. In that article, he stated that positioning is a mental device used by consumers to simplify information inputs and store new information in a logical place. He said this is important because the typical consumer is overwhelmed with unwanted advertising, and has the natural tendency to discard all information that does not immediately find a comfortable (and empty) slot in their mind. If that was the case then with only a few local radio stations, just three major television networks, and generally only one local newspaper, it is certainly even truer today.
How Arby's found the answer in the most primal section of our minds
For years, Arby's scrambled trying to find a strategy to communicate who they were after various management teams expanded the menu with a confusing array of bolt-on categories complicating operations and further confusing consumers. Arby's marketing positioning statements (some call them taglines) like these attempted to explain this unfocused brand with complimentary unfocused messaging:
What Are You Eating Today?

I'm Thinking Different, I'm Thinking Arby's

It's Good Mood Food!

Slicing Up Freshness
There are many sarcastic endings that we could write for these positioning statements like "What Are You Eating Today? Probably Not Arby's," or "Slicing Up Freshness. Just like Subway, Jimmy Johns, Jersey Mike's, Quiznos, Firehouse Subs, and all the other sandwich places?" However, we will save you the time and get to the point. They didn't find a compelling place in the consumers' mind, and whatever menu strategy it was supporting had plummeted them to the lowest value scores in the quick-service category by 2011 as shown below.
In 2014, someone with true vision was able to see the "tree" through the forest. We say "tree" because that is what you are trying to accomplish when it comes to brand positioning. You aren't selling a forest, you are selling a type of tree in the forest. The Arby's forest was filled with many species of trees, if not forests inside of the forest. Sub sandwiches, roast beef on buns, a Market Fresh sandwich line on sliced bread, sliders, and even gyros. One might say that they could play the bakery card, but when the majority of the bread comes in frozen the story gets thin and frost-bitten fast.
What Arby's always did stand for was certainly roast beef. A home for carnivores. When all else failed, they could always pull out a promotion on their Beef 'n Cheddar. It would prop up sales for a time before profits eroded after discounting their signature item. It was always a short-term decision to buy time until they could find the answer that rarely came.
Fast forward to 2014. Across the still valuable television screen, ever more valuable Facebook feed, and onto our mobile screens through other various social media and digital feeds came "We Have The Meats!" Four simple words, one simple message using a bold font with a slight serif on a white background after long shots of the meat and ultimately the sandwich over similar simple white backgrounds. No bite and smile footage by a group of seemingly happy millennials, no complicated storyline between two people trying to pick each other up, and no talking oven-mitt character/spokesperson. Just meat with a white background and an unapologetic voiceover celebrating that savory fact. If you like really flavorful unique cuts of meat, go to Arby's.
"We Have The Meats" found that comfortable slot in the consumers' mind. Arby's has been executing this position flawlessly with strong products like Triple Thick Brown Sugar Bacon, 13 Hour Smokehouse Brisket, Smokehouse Pork Belly, and most recently Smoked Italian Porchetta. The results include 25 consecutive quarters of positive same-store sales and average unit volume growth of 25% over the past four years.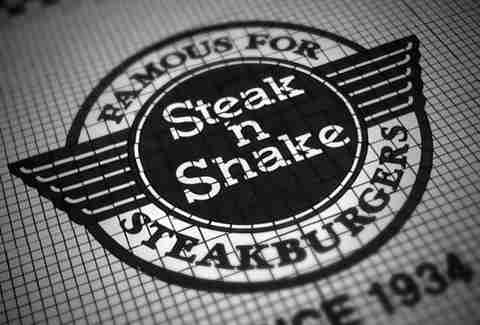 A rare move down the positioning ladder drives up revenue double digits
In 2008, Steak 'n Shake had experienced negative same-store sales trends as high as 7.25% annually for the previous three years in every quarter. However, even more alarming were the transaction losses which were hidden behind the same-store sales reports. There were quarters where traffic declines exceeded 10% showing drastic loss of overall market share. Consumers were fleeing the brand en masse.
For those who have never visited a Steak 'n Shake, it is a unique restaurant model, somewhat in the vein of an old-fashioned diner. When you enter, there is a host that will seat you or you can sit at a counter for an up-close and personal view of the grill. Guests are waited on by a server. The big twist is the classic Steak 'n Shake model also has a drive-thru that immediately positions them in the quick-service consideration set whether they like it or not. The obvious questions begin to come at a rapid pace at this point.
Are they a casual dining restaurant?

Are they a quick-service restaurant?

Are they something else? How do you communicate that?

In each case, is there a position that has enough scale to drive substantial revenue that isn't already being served by another major brand?
The largest contributor to sales comes from their iconic Steakburgers that are made with thin patties from little pucks of ground beef smashed and seared on a grill to order until a slight crispiness is achieved. Because of the thinness of the finished patty, the burgers are not particularly large like the "Better Burger" competitors emerging at the time such as Five Guys and Smashburger. Furthermore, they were not what you would expect from a casual dining experience like Chili's, where the patty is generally 1/3 to 1/2 pound on a premium bun. Steakburgers were much more in-line with the portion size and appearance of a fast-food burger on a simple white bread bun.
Their fries and shakes are their other heroes even though the menu had crept up to several pages over the years. The shakes have long been considered the quality leader on the menu with a large portion size, hand-made with a mixer, and served in-store in a tall shake glass.
Drive-thru orders are slow due to the made-to-order format of the brand. If you are in a hurry, the drive-thru is not for you. However, if you had some emails to get through, or a novel to work on, the drive-thru is a great place to multitask while you wait for your order.
In summary, the brand was a sit-down full-service diner with a slow drive-thru on the side that had jacked up prices beyond the perceived value of their more fast-food sized items to try and cover up massive transaction losses.
Remember, this was 2008. Bankruptcies, the housing crash, and massive unemployment made it a generally overall sad time for a large number of Americans, especially in the Mid-West where the bulk of Steak 'n Shake stores were located. Dining out for a sit-down, full-service experience was getting crossed off the list as a non-essential need, causing casual dining to take a hit in sales and traffic across the category. In this darkness, came the light for Steak 'n Shake.
Management took aggressive action to reposition the brand as the everyday-affordable casual dining experience by initially launching "4 Meals For Under $4." It offered almost any American hit hard by the economy an opportunity to have a quality, sit-down, casual dining experience waited on by a server at a price they could afford on a frequent basis. Steak 'n Shake provided guests dignity to be with their families around a meal again like they enjoyed before The Great Recession negatively impacted their lives. Though many would consider this a discount strategy, in reality, it was a very strategic permanent move down the positioning ladder to fill an unmet need.
This long-term strategic brand positioning could be reasonably defended. TGI-Chili-Bees (TGI Fridays, Chili's, and Applebee's) would not/could not survive on a business model that included such low pricing. The fast-casual burger players that survive on the mystique of 1/3 pound quality burgers, would not abandon their successful position by lowering prices/margins and adding cost to their model with full table service and increased food costs. This left the everyday-affordable casual dining position open to Steak 'n Shake, as long as the numbers could work in their favor by stealing sales from casual dining, fast casual and fast food categories.
To make the math work, two things had to happen. First, commodity costs would need to be lower. Second, transactions would have to increase significantly, because even though the improved commodity costs would be helpful, "4 Meals Under $4" would likely decrease the average check substantially.
The plan worked. With a baseline offering of "4 Meals Under $4" including versions of their famous Steakburger or chicken fingers and fries starting at $3.99 every day, transactions steadily grew to an amazing 20% increase by the fourth quarter of 2009. They also attained an equally impressive 10% increase in same-store sales.
Steak 'n Shake has continued this positive streak to date with 27 quarters of same-store sales and traffic growth.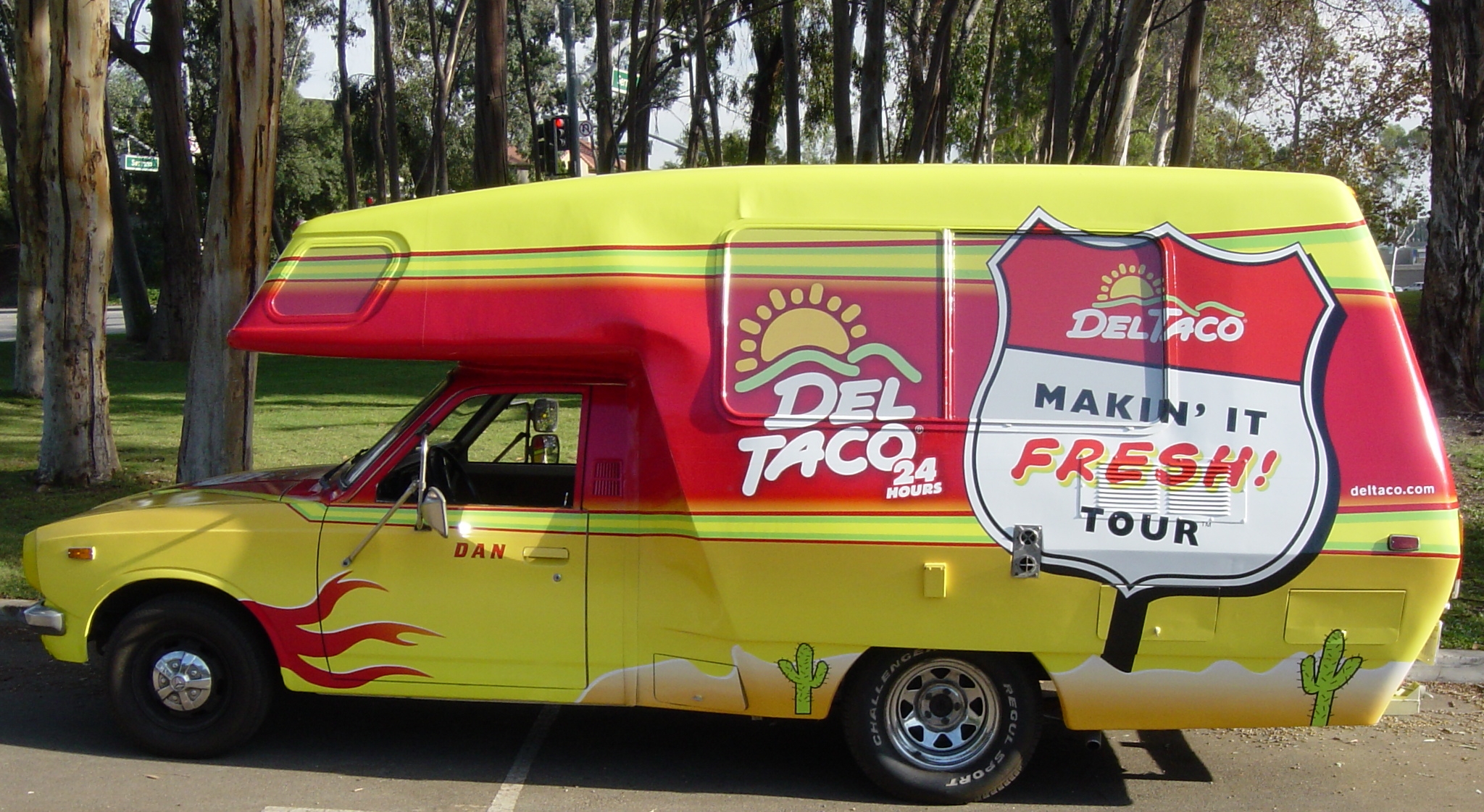 THE STRENGTH OF THE LEADER IS THEIR WEAKNESS
Del Taco leverages an underdog strategy to steal share from the Goliath in the category Taco Bell
Del Taco had emerged from bankruptcy in the early 90's and employed a "market follower" strategy, happy to ride the coattails of the giant market leader Taco Bell. Often, whatever Taco Bell sold, Del Taco would follow by selling a similar item for a slightly less within just weeks. This strategy worked well with their limited budget as they exited bankruptcy, posting sales gains each consecutive year thereafter. However, by the time 1999 rolled around the magic of that strategy had worn thin. Del Taco was headed for negative territory with no compelling/differentiating story to tell consumers to steal them away from the 800 pound category gorilla Taco Bell, let alone fast food category leaders such as McDonald's or Burger King.
In 1999, our BrandTrip Partners CEO Tim Hackbardt joined Del Taco to head up their marketing department and work with the management team to get the brand back on the winning track. Recognizing that the "market follower" strategy had run it's course, his team dove into the brand to discover if any valuable differences existed between these two restaurant concepts headquartered literally just a few miles away from each other in Southern California. A simple notepad tally quickly revealed a variety of key brand pillars that spoke to the emerging consumer value for fresh ingredients. Additionally, surprisingly revealed was a solid list of well-performing products already on the menu that did not exist at Taco Bell. It was enough ammunition to begin to tell a solid story of brand differentiation.
The trick would be how to tell the story. How to leverage those brand differences to make the message memorable and clearly define why Del Taco was different and better than Taco Bell. The answer came quickly during the next drive up the 405 freeway. As he rode past the Taco Bell headquarters, he saw the perfect backdrop to shoot a series of compare and contrast "David vs. Goliath" commercials for a hard-hitting challenger brand campaign. What better shoot set could he hope for than a monolithic tower of cold corporate glass and steel with the Taco Bell sign mounted atop it. No post production after effects graphic work required.
In 1999, Taco Bell did virtually nothing fresh. Shredded cheese came in a bag, pre-cooked chicken came in a bag, pre-cooked steak came in a bag, dehydrated beans received hot water to make them beans again. All this was part of the much celebrated "K Minus" program rolled out years before, to decrease kitchen labor costs and improve consistency. "K Minus" was modern day big-brand food engineering at its finest. This would be the weakness of the Taco Bell "Goliath" brand that would be attacked over and over again by the much smaller Del Taco "David" brand. Additionally, Del Taco would regularly feature signature menu items that could not be found at Taco Bell.
Key Del Taco freshness pillars included:
Chicken grilled fresh every hour.

Slow cooked beans made from scratch for 2.5 hours.

Aged 40 pound blocks of cheddar used to freshly shred cheese throughout the day.

Salsa made fresh every day.

Steak grilled fresh every hour.
To complete the "David vs. Goliath" storyline, the advertising agency developed a Del Taco spokesperson named "Dan From Del Taco." Dan was the "everyman" character. A little guy trying his best to compete against the big corporate giant. The underdog you can't help rooting for.
The results were immediate and changed the perception of the brand. Without any additional media spend, the creative and messaging alone drove the brand from being a small regional player to advertising awareness levels equal to the national competitors. Del Taco brand awareness rose an amazing 100%.
Sales improved as well, driven primarily by transactions, but also increased average check as the brand now had grown the credibility to offer more expensive quality-based menu items. During the time that my team led the brand with this strategy, Del Taco enjoyed breaking all historical sales, transactions, average check, and profit records. Every month featured positive same-store sales for 44 consecutive months and average unit volumes increased 33% or $330,000 to $1,200,000.
A HARD LOOK IN THE MIRROR
If your brand is stuck in a slow (or fast) death spiral, re-positioning your brand might be a serious consideration. Here are a few questions you might want to ask yourself as you take a good, long, honest look at the brand in the mirror.
Results Today - Does your brand truly have a unique and compelling slot in the mind of the consumer obtaining the results your company desires today?

Results Tomorrow - Does your brand truly have a unique and compelling slot in the mind of the consumer that will secure the results your company desires tomorrow?

Potential Better Position - If it doesn't, is there a space available that is not claimed by another brand that can drive those desired results, or even better?

Level of Change - How much will you need to adjust/change your brand to claim that space?

Resources - Do you have the resources, or can you get the resources, that are needed to claim that space in the mind of the consumer?

Support - Will your team/company do what it takes to claim this space?

Competitive Claim - If you don't claim the space, will a competitor or emerging competitor claim it and how will that impact your business?

Non-Claim Results - If you don't claim the space, what will be the short and long term results for your brand?

Employee Plan B - If those "Non-Claim Results" were predicted to be negative, is your resume and LInkedIn profile up to date and optimized?

Ownership Plan B - If those "Non-Claim Results" were predicted to be negative, have you consulted with a bankruptcy firm in recent months or brokerage advisor to sell your company?
MORE RESTAURANT TURNAROUND RESOURCES
Additional articles in the BrandTrip Partners "How To Turn Restaurants Around" series that you might enjoy can be found below: